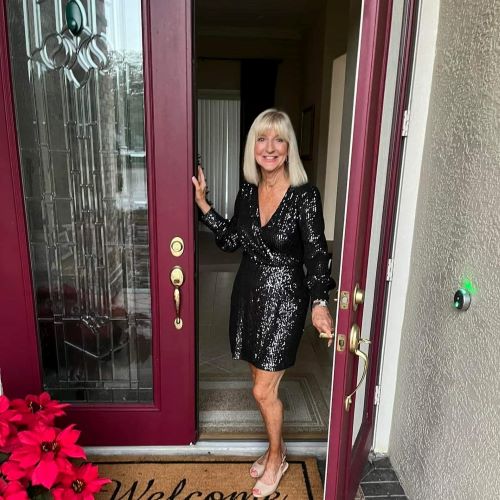 March is Women's History Month and one of the women that will live on in the history of the Lakeland Runners Club is Rhonda Fosser. In her 70s she is still running a 24-minute 5k. When you age-grade Rhonda's run times, she is considered a world-class runner. Over the past 23 years of running, she has been fortunate to do well at races, and she honestly has no idea how many trophies, plaques, and medals she has. She appreciates them, and her devoted husband Terry enjoys putting them where he thinks they should go.
Rhonda started running in Jacksonville at age 49  after being inspired by her parents who started running late in life. Her dad was 58, and her mom was 60. She loved going with them to races and decided that she would start training. She was so excited and would have tears in her eyes as she cheered for all the runners. She got some fantastic advice from her parents. Her mom said you should wear light earrings and her dad told her to get a good pair of running shoes. She soon realized she also needed a pair of shorts, a singlet, and socks. She thanks God for inheriting a competitive spirit and some good running genes from her parents.
Rhonda's first race was the 4-mile Easter Beach race in Daytona with her dad who was 73 at the time. She could only stay with him for one mile and told him to go on ahead. She realized then that she had a lot more training to do so she ran each evening when she got home from school. Terry has always been very supportive and would ride his bike with her and carry water. Rhonda ran a lot of 5Ks since they were short and fast. In 2003 they moved to Lakeland because of Terry's job with Publix when she was 52. She asked Terry to find an area where she could run, and little did she know what a tremendous running community she was joining!
Rhonda joined the LRC before she ran her first Lakeland race –  the Mayfaire 5K. She knew how important it was to be involved. She served on the LRC board for several years and encouraged others to do the same. She also served as the club's historian photographing every runner at the LRC member meetings. Rhonda was a teacher for 33 years! She decided one day when she was teaching that they needed a kids' running club at Scott Lake Elementary. Her principal agreed, and she had 35 2nd through 5th graders the first year. It became very popular, and she had as many as 150 students before she retired from her coaching "job" after 6 years. She really enjoyed seeing some of the students go on to be awesome runners in middle school, high school, and college! It was a blessing.
Rhonda has never been good about keeping track of all the races she has run. She is just thankful that she can still run, and hopefully inspire others and help motivate people of all ages to set goals and go after them. She has won 4 races as overall female at age 59 and 60, and won 7 overall master's awards at 60 and over. She has also won won around 40 grandmaster's awards from age 60 to 71. She never was really interested in running a marathon until one day she heard a group of guys talking about it at the track workout. So, at age 62, she signed up for the Jacksonville marathon and qualified for the Boston Marathon, not really knowing much about it. She ran her first Boston Marathon in 2015 and ran a BQ again. She has run Boston 3 times and also New York City.  Even with all these accomplishments, the best part of her running life is having some of the best running partners, including her husband Terry before he went into cardiac arrest in May 2020. Now they train together with Terry's physical therapy.
When Rhonda was 63 and running a 5K race around Lake Hollingsworth, she had her own cardiac episode. She was a little past the 2-mile mark and had a heart episode where she stopped and then started running again but was not aware of where she was. Two guys caught her at the finish line because she was going to fall. Someone put her in a chair, and after a short time, she woke up and realized where she was. She had one more episode like this and her primary care physician decided it was time for her to go to a cardiologist. She ended up with a 90% blockage and had a stent put in.
Rhonda has been blessed to have two amazing coaches and has met the most fantastic people through running! Rhonda is very competitive but in the most loving, sportsmanlike way. She has spent years mentoring her grandson Trace as he has cast many fishing lines into the ocean. No one can make a sequined dress look quite as good as Rhonda does, and she has stood in her signature pose with her hand on her hip in front of many doors around the country. Those of us that love and admire her have coined it as "The Rhonda Pose", and we hope we continue to cheer her on at races for many more years.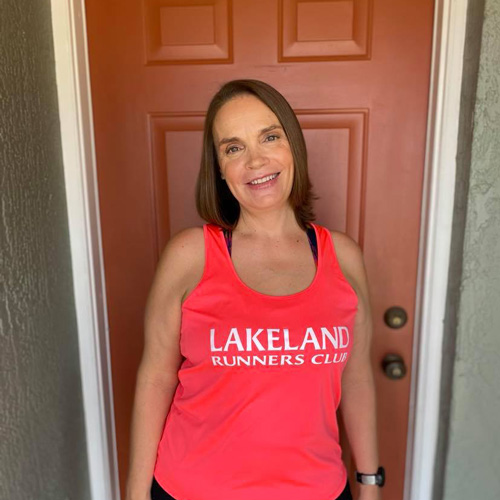 Running has provided Betsy Slay, lover of learning and life, abundant opportunities to grow and expand by becoming a running coach.  In her story, she shares how she hopes her experiences and training will help others live their own lives in authenticity and freedom. 
Read More »