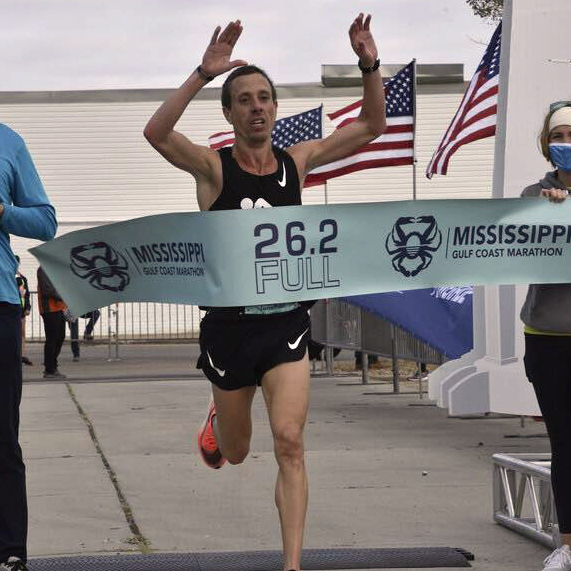 ► Volunteer Coach with the Lakeland Runners Club
► Owner & Head Coach at RunnersFix Coaching
► Two time Olympic Marathon Trials Qualifier: 2016, 2020
Mott Adds Second Marathon Win During Pandemic
We caught up with Lakeland runner Jon Mott after his personal record (PR) 2:18:03 win on Dec. 13 at the Mississippi Gulf Coast Marathon.  In 2017, Mott won the Detroit Free Press Marathon in 2:22.  You can find Jon running the Lake Hollingsworth area most mornings and afternoons.
Congratulations Jon on making the 2020 Olympic Marathon Trials and then winning the Mississippi Gulf Coast Marathon in December. 
The coronavirus pandemic put a huge damper on races in 2020, what motivated you to train for another marathon after the Olympic Trials in February?
Good question to start things off. Getting started back up after one of the biggest marathons of my career has its challenges that's for sure. And this doesn't just apply to the pandemic situation we're all dealing with in this world. I just spent so much time and effort training for such a big race and then when it ended I was left with that "I don't know what to do now" feeling. Typically, after a marathon I will take my required break and then slowly start working on getting my mileage back up. Once I'm comfortable with my base fitness I'll start incorporating quality running. Well, given the pandemic situation and no races, starting quality running would have almost been pointless for me personally. That's when I decided to focus on building my base as high as I possibly could without overdoing it. For the most part, base training is just easy mileage with a sprinkle of quality running. I was actually starting to really enjoy it. I built up to 160 miles per week and was feeling confident. After a couple months of base training, I decided to start working on my speed. I dropped down in mileage and started working on faster paces. The focus was the 5K distance. And unfortunately, I was stuck having to do time trial races. I wouldn't say I'm the best 5K runner when comparing my half marathon and marathon times, but I was having success. So, at this point, I had a huge base, and my speed was as good as it's ever been. That's when I decided I was ready to tackle another marathon. Now the question was, "which marathon do I race?". Luckily, with some help of a good friend and client, I was able to find out about the Mississippi Gulf Coast Marathon. That's when the training began. MS isn't usually the type of marathon I would usually race, but because my fitness and confidence was high, and the fact that MS was the only marathon I could find, I decided I would pull the trigger.
You've run 11 marathons in the past 10 years, what lessons from this one will you take into your next training cycle?
I'm going to enjoy answering this question because I think I learned much more during this marathon compared to others. Prior to Mississippi, my last few marathons didn't go too well. My training seemed to go well but I always struggled late in the race. I was always left confused. And this was something in the back of my mind heading into this marathon cycle. I needed to figure out a way to stay strong late in the race. What changes did I make during this new training cycle? Well, my two main focuses were trying to strengthen my legs and improve on my glycogen efficiency. Besides the mileage, I put a big emphasis on strength work. This is something I've lacked in the past. I did this 2-3 times per week. Also, I started incorporating hills into my training, which is something I've always stayed away from during marathon cycles. The combination of these two factors allowed my legs to feel stronger than ever. Then, I worked on my glycogen efficiency. I took two approaches. First, I made some changes to my diet. Prior to this training cycle I was constantly loading up on carbs. I know carbs are needed for runners but I was overdoing it. My glycogen stores were constantly topped off so my body almost never got to experience running while depleted of glycogen. Pretty much I just stopped relying on carbs so much. I would say I decreased my daily carb intake by about 20-25%. My calories were still high but I just limited my carb intake. Not too much but just enough. Next, I started incorporating Depletion Runs into my training. I will admit these aren't much fun. The goal is to head into these runs with little glycogen. So the day prior to these I back off my carb intake by about 75%. Then during the run I don't fuel with gels or anything. What's the purpose of this type of run? To maximize glycogen efficiency. When the body runs low on glycogen it responds by being more efficient with what's left. Then on race day, when the stores are topped off, my efficiency will be better than ever. Overall, I truly believe these two areas helped me the most during this marathon. It took that "worry" out of the back of my mind and allowed me to feel confident once again!
What makes Lakeland a great running community?
I truly believe Lakeland has the best running community ever! I've got to experience what other cities have to offer but none of them compare to what we have here. It can just be random Tuesday morning at Lake Hollingsworth and I'll still see so many runners. And what makes it even better is how positive all these runners are to each other. It greatly builds my confidence and makes me want to work harder knowing that there are other runners out there working hard as well. I would have to say Saturday mornings are the best because that's when I'll see the most runners out doing their long runs. Also, the Lakeland Runners Club does a great job hosting weekly runs as well as the races they put out throughout the year. I wouldn't be the runner am I today if it wasn't for this amazing community.
What's next? Will you try and qualify for a third Olympic Marathon Trials?
Yes! I want to join that rare club of qualifying for 3 Olympic Trials. But the qualifying window doesn't open up until the fall of 2021. So I have to wait for the opportunity to make this attempt. I don't even know what the qualifying standards will be yet. The last two Olympic cycles I needed to run 2:19 or faster. I'm guessing it's going to be slightly faster. Either way I plan to make my first attempt this fall in Chicago. Now to answer the question about what's next for me. I plan on following a similar approach to last year (2020). I want to work on getting my mileage back up and building a strong base. Then once it starts to warm up for the spring/summer I'll focus on the shorter stuff like 5K specific training. I'm hoping to get my 5K time down and then I'll eventually make my transition back into marathon training. The marathon is my best event and it's not even close, so that's where my main focus will always be. I want to set myself up to run my fastest marathon possible and this approach will allow me to do just that!
LET'S TALK TRAINING
You've been what most runners would call a 'serious' runner since college.  When and why did you start running?
Making me think way back with this question! I started running when I was 16 years old. I'm 33 now so that's 17 years ago. Now I feel old! In high school (Northeast HS) I would've considered myself a somewhat athletic person. My only issue was that I couldn't find a sport that I truly enjoyed. What sports did I try? Swimming. Which was so hard for me! The breaststroke was my main event but I was getting crushed at every meet. Soccer. I had the speed to get across the field but I didn't possess the knowledge and foot skills to be successful. Baseball. I was recruited to be a pinch runner but I was awful at reading signs from the coach! Bowling. Which I was decent at but I wasn't it eventually was getting too boring for me. Then one day during PE class, the teacher had the class run a timed mile. I didn't know what to expect. When it started I just locked onto one of the guys on the cross country team. He dragged me along to a 6:01 mile. Guess what happened next? The teacher went straight to the track/cross country coach and the rest was history! This is where it all began. I started off focusing on the shorter distance in track like the 400m and 800m. My times were respectful but nothing too special. During cross country is when I really started to see my potential. I qualified for State and earned a scholarship to Webber International University. Webber is a small NAIA school in Polk County. I had some success there but I still wasn't where I wanted to be with my running. It wasn't until after college where I had my big breakthrough. Once I was able to get my mileage up my body just started responding very well. That's when I realized I was built for the marathon. The success came shortly after!
What's your favorite workout? 
The Long Run of course! This is mainly because I favor the longer distances compared to the shorter stuff. Nothing beats running a 20 miler around Lake Hollingsworth on an early Saturday morning! It's like I can feel my body getting stronger after each mile I click off. And I like doing many different types of long runs (Moderate pace, Progressions, Alt Long Runs, Long Runs with marathon or threshold paced miles thrown in). However, my favorite type of long run is where I run a moderate pace throughout. Since I'm more of a strength-based runner, my body responds very well to these types of runs.
What do you do for cross-training?
To be honest, I don't do much cross training, unless I'm injured, but that hasn't happened anytime recently. Not to jinx myself. When I do pick up the occasional injury I like to aqua jog. Aqua jogging is a great cross training method because there's pretty much no impact on the body. When I do this I use a deep pool.
Deep enough to where I can't stand up without being under water. Then I'll strap a pool belt around my waist and mimic the running motion without touching the bottom of the pool. I'll do this for 45-60 minutes each day until I'm ready to start running again. This is pretty much the only form of cross-training I'll ever do.
Unless of course, you count strength work, which I do 2-3 times per week. I focus on bodyweight exercises. My routine takes no more than 20-25 minutes. I like to do these sessions the day after a hard workout or long run to allow the proper recovery heading into my next workout or long run. I believe this has allowed me to stay injury-free for so long.
Where does sleep fall in your list of training priorities? Does it change over a training cycle?
This is an area that I do well with most of the time. On average I like to sleep about 8-9 hours each night. Then a few times per week I'll nap for about an hour. I'm usually pretty consistent with all this. I'm fortunate because I work from home so getting that occasional nap isn't an issue. Recently, I've started sleeping in an Altitude Tent. This is exactly what it sounds like. A small tent surrounds the top half of my body and there's a generator that pumps high altitude oxygen into the tent. It's mimicking high altitude since we don't get that here in Florida. I often get asked why I do this. There are plenty of research studies that prove the benefits of running performance when living or sleeping at higher altitudes. Since there is less oxygen in the air, the body adapts to this and creates more red blood cells. So, when I run at sea level, my red blood cells are maximized, which allow me to run my fastest. This isn't the most fun as it gets humid and uncomfortable inside the tent but if it's going to help me be a better runner then I'm willing to do it.
How much time off do you take after a hard race effort? Would it be different for elites vs recreational runners?
Now this is something I could probably do a better job with because I tend to start back running too soon after a big race. Typically, I take about 7-10 days off after a marathon. During this time I'm not doing anything that involves running. I give my body the best chance to recover. However, I'll sometimes get the urge to start back up too soon and most of the time in these situations it doesn't work out. For example, after Mississippi I only took 6 days off before I started running again. I thought I was fine until the soreness from the marathon started to creep back into my legs. This caused me to take another 3 days off. However, I tend to bounce back from a marathon quite well for the most part. I will say that I believe a break after a big race is different for elite runners compared to recreational runners. For elite runners, we're trying to get every single ounce of fitness out of our bodies. Now that doesn't mean recreational runners aren't doing the same but the training involved with elite runners is tougher. The mileage required takes a major toll and the faster paces make it harder to recover compared to recreational runners. With all this being said, I believe elite runners need more recovery than recreational runners after a big race. Now I'm not saying recreational runners don't need a break after a big race, but I do believe they don't need as much time. As a coach, I've found this to be true with the runners I coach. I get jealous that they're able to bounce back so easily. It's just how it works.
What advice do you have for the beginner or runner coming back after time off?
This is one of those questions where a runner might be looking for some secret trick to get them back into the swing of things easier or quicker but unfortunately, that's not the case here. There is no secret when starting back after some time off. You must follow the basic rules in this situation. We've all heard them before: be patient, don't increase mileage too quickly, don't start quality running too soon, listen to your body, etc. It's really as simple as that. And the thing is, it's so simple to follow these rules. There is no having to guess if this stuff works or not. It's already been proven. The hard part is actually listening to your mind when it wants to jump into things too quickly. We know it's the wrong thing to do but we do it anyway. We take the risk knowing it's a bad idea. And most of the time it ends in injury or overtraining. If you can have self control in this situation then things are going to work out for you.
What do you do when you're not running?
This is a tough one to answer. Running takes up a good amount of my time. And it's not just the running part where I'm spending my time but also the strength work, nutrition, and spending time each day working on recovery. Some of my recovery techniques are naps, compression boots, and stretching. For my nutrition, I make my own meals for breakfast, lunch, and dinner. Well, most of the time. And then the strength work, which I do 2-3 times per week. When I'm not doing any of this then I'm working with my runners. I own RunnersFix Coaching Services and coach a good amount of runners. The coaching and social media pages take up a lot of my time. It's actually my full-time job. Other than that I like to go out to eat with David Reiber, Giselle, Heidi, and Pam at Mellow Mushroom, or we'll go on walks. I'll also ride the bike with Tri Thornhill during his workouts.
Thanks for spending so much time with us Jon, is there anything you'd like to add?
I would just like to thank everyone who has been there along my journey. Like some people, I've had to deal with some tough situations in my life. Things got bad early on in my life. I've fallen and gotten back up so many times that it truly does amaze me that I'm able to live the life I'm living today. The people that surround me are the ones who've helped me get through all the hardship. The encouragement and support from others have built my confidence and allow me to succeed, not only as a runner, but also as a person. If it wasn't for all this I probably wouldn't still be running. And I believe running has saved me. So, with all that being said, thank you to everyone who has been there to help me through all this! It means the world to me!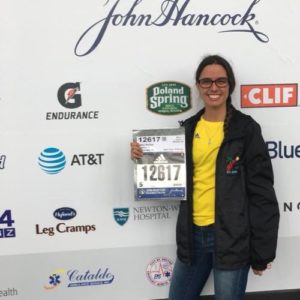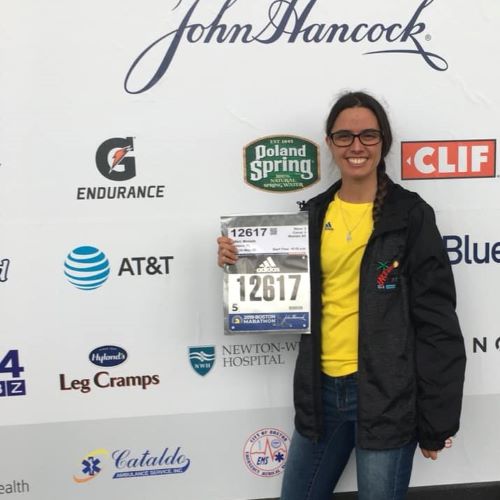 Hoffert took a few years away from running after high school, and reconnected with the sport in 2013. In addition to being a RRCA certified running coach, Michelle has run the Boston Marathon twice and has Overall Female wins at Moon over Croom, the Pinellas Trail Challenge and X-Country 30k.
Read More »