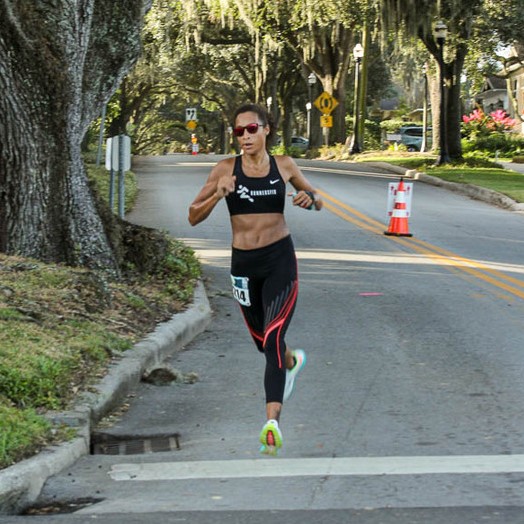 ► Volunteer Coach with the Lakeland Runners Club
► Started Running: middle school
Kaelani completed all 10 LRC races in 2019, winning overall female at the Aching Quad Challenge and Double Down 5k, and placing in her age group in the other events. Leone also became a certified RRCA running coach in 2019, and volunteers with the LRC as a coach for the LRC Kids Run Club. In 2020 Kaelani trained for and completed her first marathon, the Mississippi Gulf Coast Marathon, in 2:55:30. 
Congratulations Kaelani on your first marathon!  When did you start running?
Thank you! Wow, that was so much fun! The build up for the marathon was a little intimidating at first, to be honest, I had never trained for a race using a real training plan! I always just went out and ran! Once I committed to running in Mississippi, it was all determination to make myself, my husband and my kids proud! It was nice having an organized plan, workouts that made sense and helped make me stronger, and a coach that supported and motivated me whenever I was feeling negative!
I can honestly say that I've always LOVED running, from 1 mile run races at the field day events in middle school and running the 4×800 and mile events in track and field and cross country in high school where I knew I was a strong runner but was never really focused or passionate enough at the time to pursue it correctly!
It wasn't until I became a mother that I really found my love for running again. After having children and moving away from family, with my husband being a submariner in the USN [United States Navy], I needed something for myself! So I slowly started running again but it was with a few babies in a double stroller. Which if you have ever done before is a task in itself, snacks and toys are helpful.  Anyway, we moved to Lakeland and I discovered the LRC and I haven't stopped running since.
In the past 2 years you've run all the LRC events, quite a few half marathons, and a full.  Do you have a favorite distance?
Yes, I have to say my favorite distance is the half marathon!
I did quite a few in 2019, 5 in 5 months I believe, I was supposed to end with a 6th "birthday" half marathon in March (of 2020) but it was postponed and I deferred until 2021!
Now, that I have a full marathon done though, that may become my new favorite distance!
What do you enjoy more: training or racing?
I love the adrenaline rush from a race, the feels are just different!  Everyone is excited but focused and I'm usually super hyped before and after the race!!!
You haven't always lived in Lakeland.  How did you learn about the Lakeland Runners Club?
When we first moved to Lakeland 3 years ago I was determined to start running consistently again!!! So I jumped online and searched for a local running club. I found out about the Black & Brew social run and told my husband I wanted to go!
I remember calling our realtor and asking her to go with me, because she was the only person I knew at the time, and dragging Rusty and the kids with me for support! They stayed and ate muffins while I ran my first 5k with Dave and Cookie Quarles and everyone that runs that route every Saturday!
I ran with that group for a few months from Black & Brew and also at the Thursday Hills run,  before I found out I needed surgery (non running related issue), took 6 months off for recovery, and started back up with the B&B group. Then I started running from Mitchell's and then the Pack workouts and now I run with a ton of awesome people!!! There is such a diverse group of runners in Lakeland!!!
You also volunteer with the LRC as a Kids Run Club coach.  What's that like?
The Kids Run Club is so much fun to coach! The kids are always excited and happy to be there! We have so much fun doing our warm up games like simon says, scavenger hunts, and different obstacle courses that I like to dream up for them!
What's your next running goal?
My next immediate goal, is the Snickers half marathon in, hopefully, April! I hope to improve on my PR of 1:25:37.
I hope to run another marathon in the Fall just not sure on which one yet, I got my BQ [Boston Qualifier] at the Mississippi Gulf Coast Marathon but I probably won't focus on such a monumental race until I know for sure races are going to happen!!!
LET'S TALK TRAINING
What's your favorite workout? 

I love my Saturday LONG RUNS! Such a great way to start the weekend plus I try and fit a good nap in after if there is time for it with what we have planned for the day!
Do you cross or strength/mobility train?
I do some dumbbell/bodyweight work about 3 times a week but I definitely plan on increasing the time I spend on that!
As a mom, how do you balance training with all the other things that vie for your attention?
I try and run either really early in the mornings when everyone else in my house is still sleeping or just whenever I can fit my runs in!  I make sure to plan races out months in advance in order to get my parents to watch the kids or we bring the kids with us and use it a positive motivation for a good outcome…they are the best cheering squad after all!!!
It's really a juggling act, that has been working out pretty well!
What do you do when you're not running?
I love spending time with my kids and my husband we try and stay busy, we go hiking, bike riding, play video games, watch movies just to name a few activities!
I love to eat and cook yummy food and take a good nap whenever I can.
I started working at the restaurant Good Thyme in Dixieland a few months ago and that's what I do when I'm not running and the kiddos are at school!
Thanks for spending so much time with us Kaelani, is there anything you'd like to add?
I appreciate the opportunity to share a bit about myself with the LRC. I am so grateful for the Lakeland Runners Club and all that it has brought into my life…FOCUS, FRIENDS, KNOWLEDGE, COMMUNITY, and MY LOVE FOR RUNNING BACK!!!
Know a Runner We Should Meet?
Do you know someone from the Lakeland running community we should get to know better?   There are so many amazing people in our community and we want to highlight them and share their enthusiasm for running or walking and being part of an active community. 
Maybe it's someone who has been inspirational to you, achieved an incredible goal, or demonstrated courage to start (or re-start!), or clearly lives the LRC mission to promote running in the community.
You do not have to be a LRC member to nominate someone.  Nominating a person/group does not guarantee they will be featured. Preference will be given to current LRC members.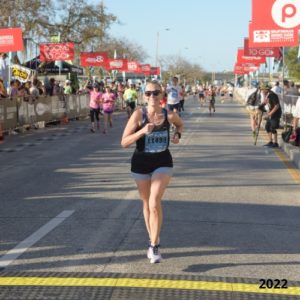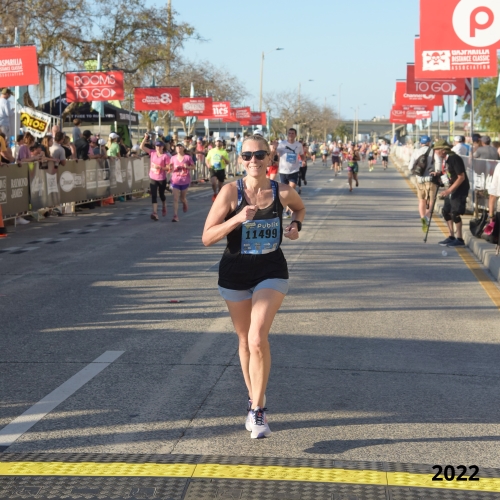 The Lakeland Runners Club exists to promote running and fitness for runners of all ages and abilities in the community. We are led entirely by volunteers, and for many years Sarah Kozul has been a dedicated volunteer to the club, executing behind the scenes with many, many hours donated to the benefit of LRC, and the entire running community.
Read More »