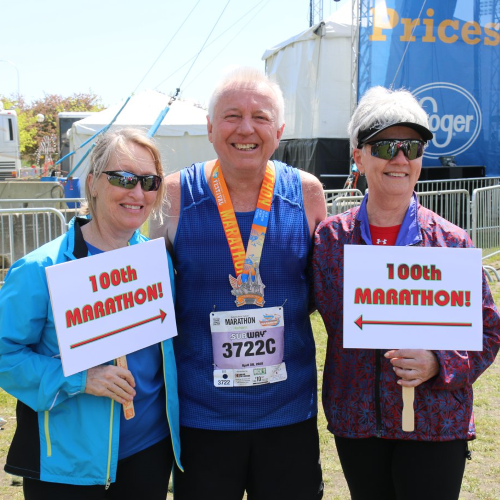 ► 100 Marathons, 69 Half Marathons and counting
A runner for the past 40 years, Kenny Greenwell still has big goals at age 72.  Kenny ran his first marathon in 1984 in Louisville, KY and finished his 100th in Louisville in 2018.  He's now targeting a half marathon goal of 100, and Kenny is giving himself eight years to finish the last 31 13.1 events. 
WOW – you've run 100 marathons Kenny!!  What motivated you to take up that ambitious goal?! 
When I started running marathons [in 1984], I adopted an approach of getting to an 80-90% peak fitness level and running 2-3 marathons in a couple of months so I could maintain near peak performance for a longer period.  Many marathoners want to peak on marathon day and then not run any more marathons for a few months or longer.  That thought process gets depressing for me because, like most, I have a mental let down when I notice lower performance a couple of weeks after a marathon.  So, the multiple scheduling worked better for me, I had a desire to go back and do annual marathons in cities like Louisville, Huntsville and Boston.  Then, I got to 50 marathons at Disney in 2002.  Our local paper in Loogootee, IN did a feature on me and we discussed the next 50.  Progress was slow, but once I retired and we moved to Florida the number of available marathons without the extra expense of travel made the 100-marathon goal attainable.  Also, three running buddies, Ken Steckert, Mark Brocco, and Harold Titman, helped keep me on a good running schedule.
You're not originally from the Lakeland area, tell us about your life and running prior to moving here.
I was born and raised on a dairy farm in southern Indiana, went one year at Indiana State, decided to be patriotic, and joined the Navy.  After that, I spent my early career in civil service working for the Navy in Southern Indiana.  I ran some in high school and occasionally in my twenties, but did not get in a consistent running habit until age 33.  So, this is my 40th year.
Along with my job and kids, I did some hog and cattle farming on the side, but then I got into a job that required travel so I ditched the livestock and picked up a serious running habit.  My wife Ruth and kids could walk or bike while I ran and sometimes went to runs with me.  Then I found that distance running really helped my thought process, learning in college classes, and it was a great problem-solving technique for me.
Four of the 33 guys in my high school class have competed in marathons.  They really encouraged me to accept the long-distance challenge.  We are still active and do vacation or mission trips together.
In 1997, I transferred to Norfolk, VA where we spent 14 years before retiring in Winter Haven.
Running consistently for 40 years and marathons for 34 of them is really incredible.  Tell us about your training: Where do you like to run, did you have regular training buddies, and have you had any serious injuries? 
I will train anywhere, training can be a walk in the park, a stroll in the neighborhood, a hike in the woods, a jog up several flights of stairs, or a dedicated long-distance run on the roads or trails.  I have always had several courses to choose from in places where I lived, worked, or traveled.  Places, where I have spent the most time, include the county roads in Indiana, the Potomac trail in Washington DC, the military bases and trails in Virginia, and the local trails here in Polk County, FL.
I have always mixed my training and courses to help keep myself from getting bored and driving others (those who will run with me), nuts
I have always had regular training partners, they are so important and I appreciate them so much.  There are many lifelong friends and relatives in Loogootee, many from the Tidewater Striders in the Norfolk/Virginia Beach area, and several here in Polk County.  Lakeland Runners Club is the go-to place to find and connect with running friends.  Ken, Mark, Harold, and I have done hundreds of miles on the roads and trails here in Polk County.  Sam (antha) Longster and I use Polk State College as a starting point two days each week.  Seeing people like Bob Payne, Judge Maloney, and others while on the trails is refreshing and enjoyable when we take the opportunity to walk and talk.
Surprisingly I have not had any major injuries in all my years of running.  Most have been muscle or tendon stresses that bug me for a few days and then go away.  For me, just one Aleve seems to take care of any irritations I feel coming on.  I had one early bout of shin splints when I first got serious and plantar fascitis on a few occasions, but mostly I have been injury-free.  I tell people that is due to me being a lazy runner who does not like speed, those sprints of maximum exertion that can be a cause for serious runner injuries.  I have had a couple some bad trips/falls.  One in Prague, (Cech Republic) that took about ½ the skin off my face and another last May where I got a compound fracture and busted up my hand.  Neither kept me from running, but I look for those raised sidewalk cracks because that is what I tripped on in both instances.
What are some of the life lessons that running for 40 years have taught you?
Running is the most perfect sport for me.  I do not have the capability to efficiently coordinate the four limbs that are needed in most sports.  In running you can focus on your legs and the arms just seem to follow.  Running has helped my thought process, the ability to problem-solve, deal with stress, and most of all to keep my 72-year-old body reasonably healthy and fit during all these years.  My quality of life is much better due to running.  It also helped me during my working career.  Until I started running, I was stalled in my career advancement.  But, once I decided to complete my undergrad degree, running helped me immensely.  I went from a 2.0 student to a 3.5.  It took me 21 years to get that undergrad, but then I jumped into a Masters Program and got it done in three years.  The job advancement was the greatest reward.
What are some of your favorite memories from marathoning and running in general?
I really liked each of the 100 Marathons for various reasons, even on days of poor performance.  Boston is certainly the place where you see the most fans, it is so energizing.  Marine Corps in Washington DC is the most patriotic, I don't think I will ever forget the somber mood when the running field passed the big hole in the Pentagon after 9/11.  Indianapolis and Louisville marathons and ½ marathons are just like coming home for a great visit with family and friends.  Florida has Disney, Celebration, Clearwater, St Pete, Cocoa, and many others.  At Space Coast, in Cocoa, the food, drink, and neighborhood support on the South Half is outstanding.
As expected, there are many; some funny, some tragic, some urgent, and some were just great life experiences.  Each is a story in itself.  In 1985 a small plane crashed in a field just 200 feet from me.  I ran the steps of the Philadelphia Museum of Art like Rocky in the movie, and yes, I danced at the top.  I had the park service police radios tracking me when I ran the Lincoln Memorial Steps at 6 AM one Summer Morning.  I went over a fence to use the restroom in a barn in Indiana and had a farmer yelling at me when he saw me running to get back on the road.  I ran a couple of 50 milers in Kentucky.  I did Pikes Peak Marathon in 1992, oh what an experience.  A friend and I got stranded in the snow so I rode on the back of a Volkswagen Bug for seven miles to get home and nearly froze. I have so many stories – that's probably enough!
Your next goal is to run 100 half marathons – why did you save it for after the marathon goal?
My personal record for a marathon was 2:41 when I turned 40 years old, and by the time I got to the 50th marathon in 2002, I knew my days of running that distance were dwindling. Some of my final events took more than 4 ½ hours so I told myself 100 had to be my limit. Knowing I can still do the ½ marathons in 2-2 ½ hours makes me excited to work toward that 100 half marathons goal.
I completed number 69 at the Holloway Park ½ Marathon on February 6th, and I've already registered for five others this year. I'm giving myself 8 years to complete the last 31.
You've been a member of the Lakeland Runners Club since 2011 – why do you support the club?
When we moved to Virginia in 1997, I joined the Tidewater Striders, and when we moved to Florida the first thing I looked for was a running club.  I like volunteering, and Lakeland Runners offers that opportunity.  Also, my running friends and spouses look forward to the Runner's Club Christmas Party each year.  I still travel quite often but attend many LRC events, they are always fun for social interaction and running.
Know a Runner We Should Meet?
Do you know someone from the Lakeland running community we should get to know better?   There are so many amazing people in our community and we want to highlight them and share their enthusiasm for running or walking and being part of an active community. 
Maybe it's someone who has been inspirational to you, achieved an incredible goal, or demonstrated courage to start (or re-start!), or clearly lives the LRC mission to promote running in the community.
You do not have to be a LRC member to nominate someone.  Nominating a person/group does not guarantee they will be featured. Preference will be given to current LRC members.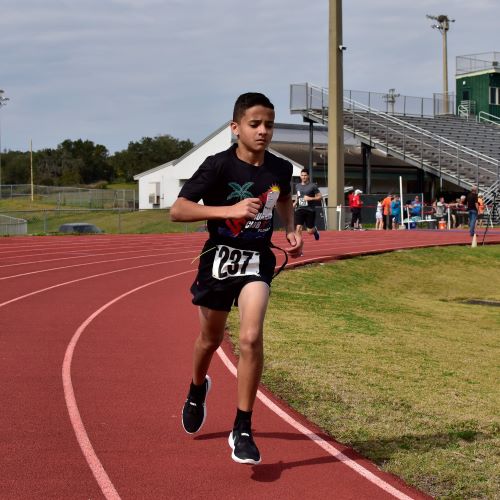 David has been a LRC Member since 2019. His first race was the Watermelon 5k and his favorite race is the Mayfaire 5k. David is originally from Georgia and has a goal to run a sub five-minute mile before High School.
Read More »