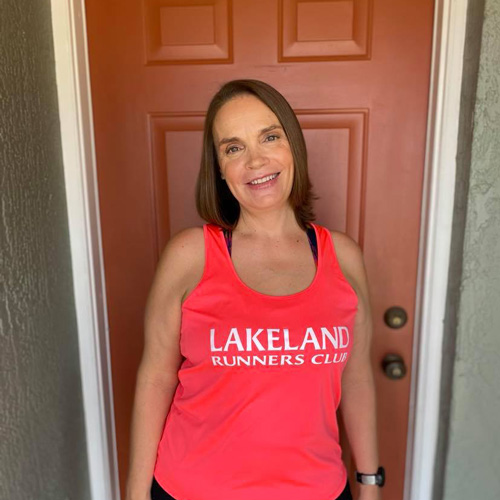 ► started running: 2011, at age 44
► LRC 5k and 10k training programs lead coach
► owner and head coach at Slay Running
Running has provided Betsy Slay, lover of learning and life, abundant opportunities to grow and expand by becoming a running coach.  In her story, she shares how she hopes her experiences and training will help others live their own lives in authenticity and freedom. 
When and why did you start running?  
I grew up in the 70s and 80s as a typical active kid in a small northern NY town. Swimming, biking, ice skating, skiing etc., but at an early age, I developed some very unhealthy habits in regard to food. Disordered eating ruled my life for many years and by 2007, I weighed 280 pounds and was very unhealthy and unhappy. Over the next 5 years, I lost about 120 pounds, and part of that process involved learning to enjoy exercise again, and running became my sport of choice. I began run/walking and built up my stamina and speed for almost a year on my own.
One of my coworkers found out I was running and encouraged me to come run a 5k that weekend. I told him I couldn't because I couldn't run 3 miles without walking. He laughed and said I didn't have to and could walk as much as I wanted. I was too afraid to sign up for that race, but that weekend I timed myself for the 5k distance and was pleasantly surprised by my finish time.
The following weekend (May 2012) I ran my first 5k, which was the inaugural Carillon Classic 5k at Bok Tower Gardens. Now, I wouldn't necessarily recommend that you run your first 5k on varying terrain climbing to the highest point in peninsular Florida, but I did and it was amazing! I had no idea what I was doing, but finished and actually got 3rd place in my age group. I was hooked! That was 9 years ago and my love of running has only grown since that time.
What are some of your personal victories or favorite running memories? 
Once I did a 5k, I wanted to do a 10k and then a half marathon and then the next year a full marathon. Over the next few years, I gained some amazing friendships and even met some people who ran ultramarathons. The first year, I thought they were crazy and the next year I was one of them, training for and finishing numerous ultrarunning events of 26.3 to 50 miles from 2016-2018.
How did you get involved with the Lakeland Runners Club? 
In 2015, I had the opportunity to coach two new runners groups and in 2016, with the help of the Lakeland Runners Club, I had the opportunity to attend the Road Runners Club of America (RRCA) coaching certification class. In 2015 I also joined the board of the LRC. It felt like a natural progression in my desire to continue learning and contribute to the club as well as the whole Lakeland community. It has been an incredible experience and I am thankful to be part of this organization of amazing volunteers who put their heart and soul into everything they do for our members, Lakeland, Polk County and beyond!
How did running change your life?
Running changed my life in such a dramatic way and I have a real desire to share that with others.  After several years training with friends, writing training plans, mapping running routes, and planning group runs, I launched Slay Running in 2018 to coach private clients. I'm now in my 4th year of learning and growing alongside some incredibly inspiring athletes. In 2020 I completed my RRCA Level II coaching certification and want to keep learning more and more about this amazing sport!
What's next for you on your running journey?
One thing I discovered about myself as I pushed my body to do longer and longer races was that I still had some mindset issues around food and exercise. As my body adapted to the stresses, I required less fuel and had to keep doing more exercise to eat what I wanted and maintain my weight. When I finally came to a point where my body said "No More!" in the form of a sacral stress fracture, I had to take a hard look at my relationship with food once more.
I love to learn and consider myself a lifelong student. I learn something, get fired up and then the coach in me wants to share it with others. In 2018 I began focused work on intuitive eating and body image. Letting go of restrictive dieting and overexercising was extremely difficult as I had to watch some of the 120 lbs. I had lost creep back on. It was terrifying to think that all the hard work I put in would be lost if I didn't starve myself and exercise to the point of overtraining.
In 2020, I began working with Serena Marie RD, a non-diet dietitian who specializes in helping female athletes fuel for performance while making peace with food and love/respect our bodies. The three months of work with her was transformational. Later that year I began delving deeper into mindset work and falling in love with the coaching model Brooke Castillo teaches. This has lit a new fire under me and a new trajectory to not only transform my own mind, but to help my clients do the same. I am learning to evaluate my thoughts, the feelings those produce, the actions I take and the results I get.  Rinse, repeat.
When I look out at all the amazing folks in our community who have a desire to get fit, maybe even pursue running, but hesitate because they don't think they will fit in – not young enough, not fast enough, not thin enough etc., I get very emotional. That is who I was, and sometimes still am. I want them to know, "this is for you too – you can do this!" I want to make them feel welcome just as they are and help them pursue whatever goals and dreams they may have. The excitement of seeing someone have that "AHA" moment as they work toward a goal is so rewarding to me. My next chapter is training to become a certified life coach and widen my lens far beyond running and fitness. I'm excited for the changes I will experience in my life and hope to help as many people as possible level up and live their lives in authenticity and freedom.
Know a Runner We Should Meet?
Do you know someone from the Lakeland running community we should get to know better?   There are so many amazing people in our community and we want to highlight them and share their enthusiasm for running or walking and being part of an active community. 
Maybe it's someone who has been inspirational to you, achieved an incredible goal, or demonstrated courage to start (or re-start!), or clearly lives the LRC mission to promote running in the community.
You do not have to be a LRC member to nominate someone.  Nominating a person/group does not guarantee they will be featured. Preference will be given to current LRC members.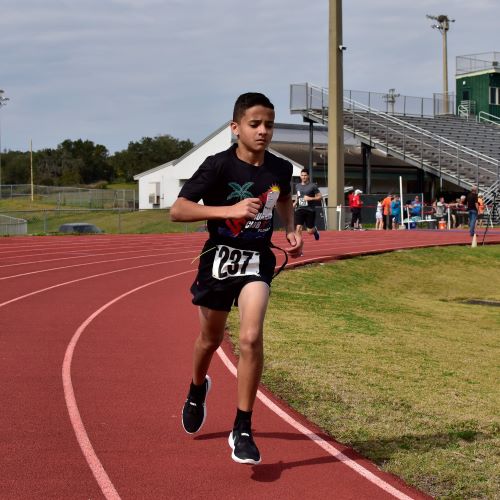 David has been a LRC Member since 2019. His first race was the Watermelon 5k and his favorite race is the Mayfaire 5k. David is originally from Georgia and has a goal to run a sub five-minute mile before High School.
Read More »