Effective June 5, 2020, Florida moves into Phase 2 of the recovery plan. The Lakeland Runners Club will resume group runs and activities starting Saturday, June 6, 2020.

Participants will need to check in online for each run they attend and supply their own hydration.
Additional guidelines are highlighted below.
resuming in June
Pack Workouts—resumes Saturday, June 5. Times and locations vary.
Hill Run—resumes Thursday, June 11. 6 PM from Johnson Ave
resuming in July
Track Workout—resumes Tuesday, July 7. 6 PM at Lakeland High School Track.
Middle School Development—kicks off Tuesday, July 7 at Lakeland High School Track at 6 PM. Registration will open on June 8.
5k Training Program—kicks off Saturday, July 11 at Publix Charities Park at 7:00 AM. Registration is open.
resuming in Sept
KIDS RUN CLUB—tentative kick off on Tuesday, Sept. 1. Registration will open on August 1.
Positive & Safe Sport Environment
The Lakeland Runners Club is committed to offering programs designed for athletes to enjoy a welcoming and respectful environment where diversity is actively embraced. At any age, our mission is for athletes to use the skills they've learned to contribute to the well-being of their communities.
Additional Resources for Parents
Our volunteer coaches are trained to protect young athletes from abuse through the Safe Sport Act training. Free resources are available for preschool through high school athletes and their parents and are designed to cover the issues of misconduct in sport and helps parents ensure their children have a positive and safe sport experience.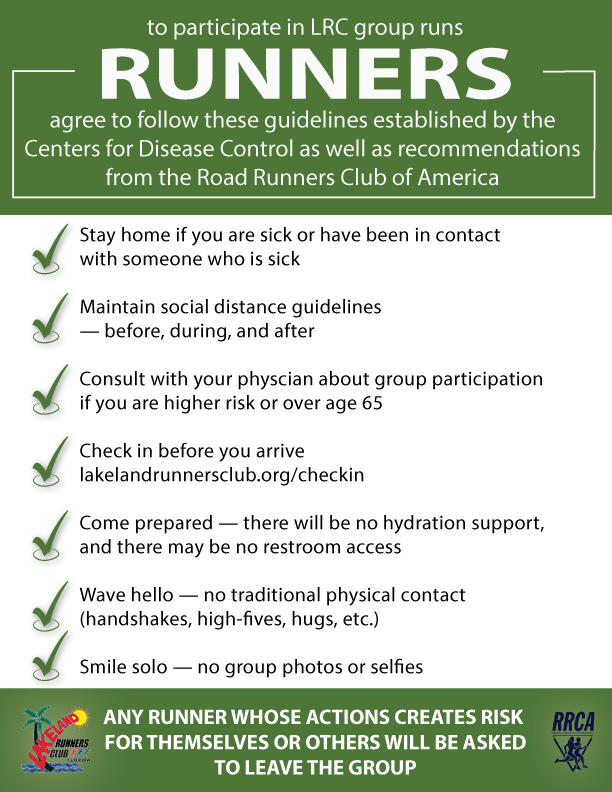 Dates for LRC Group Runs to Resume