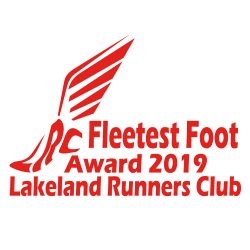 As the Lakeland Runners Club commemorates 45 years, we will host a John Scimone Memorial Run on November 21, 2019. 
We are also excited to revive and update the Fleetest Foot award for 2019. The Fleetest Foot award will go to 10 male and female members for their dedication to LRC events in the sport we love. We are adding an age-graded category, which will open the field to recognize runners of all ages.
To be eligible for the Fleetest Foot award, participants must be current with their LRC membership and complete all ten 2019 LRC races. Chip finish times will be tracked and awards will be presented on Nov. 21 to the top five male and female members in two categories: cumulative overall chip time and age-graded cumulative chip time. There will be no duplicate awards, and overall time will trump age-graded time.
Age graded calculators are intended to provide you with an age-graded race time and an achievement percentile for a recent performance at a specific race distance. Age-graded information allows you to:
Adjust your performance to what it theoretically would have been during your prime running years (your 20's and a portion of your 30's depending on the race distance).
Judge your performance, using an achievement percentile, without bias for gender or the aging process (in other words, you are measured against a specific standard for your age and sex). These percentiles can be interpreted as follows:

Over 90% — World Class
Over 80% — National Class
Over 70% — Regional Class
Over 60% — Local Class

Compare your performances for a specific race distance at various ages to determine which was your "best race".we
2019 Fleetest Foot Awards
Congratulations to our 2019 Fleetest Foot Award Recipients.
Female Overall
Runner Name
Age
Sum of Total Finish Time
Kaelani Leone
31
03:27:30
Gelissa Rodriguez
44
03:35:47
Shannon Abitbol
36
03:47:02
Melanie Cookson
39
04:26:39
Linda Nugent
44
04:27:05
Male Overall
Runner Name
Age
Sum of Total Finish Time
William Lay
30
03:24:44
Ryan Shields
41
03:27:36
George Sapp
10
03:45:39
Chris Baker
43
03:47:34
Louis Irwin
60
04:10:01
Female Age Graded
Runner Name
Age
Sum of Age Graded Finish Time
Trish Walsh
56
03:50:24
Nanette Rodgers
83
04:01:34
Petra Beemer
49
04:05:28
Petra Norris
55
04:19:34
Meghan Ruger
35
04:48:20
Male Age Graded
Runner Name
Age
Sum of Age Graded Finish Time
Wilson Strouse
74
03:15:27
Todd Vargo
48
04:17:28
Tyler Ruger
34
04:20:32
Cliff Parkinson
71
04:22:31
Mike Rehn
33
04:45:00
The following are our 2019 participants in each category.