Follow Jon Mott & Sydney Devore as they chase their Olympic Marathon dreams as part of the Hansons Brooks Original Distance Project Team.
In just a few days, I will be "suiting up" for the first time as a Hanson-Brooks athlete for the 49th Annual Peachtree 10K in Atlanta. But this isn't just any 10K, this is the USA 10K Championships and I am toeing the line with some seriously fast ladies. But more on the race in a bit, BECAUSE….
…all of our official race and travel gear arrived from Seattle!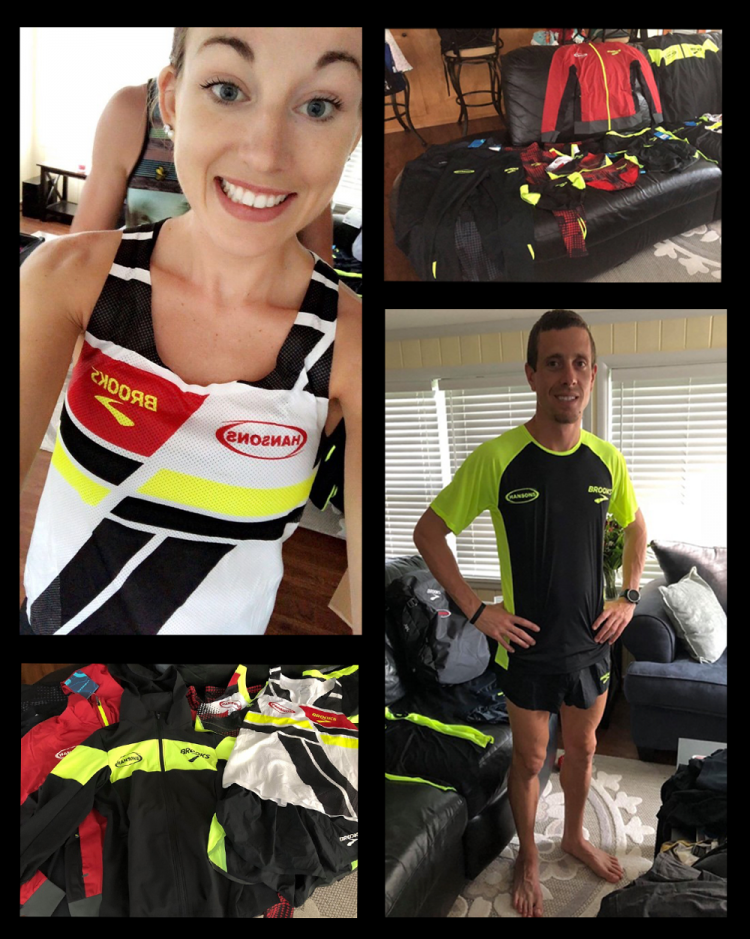 Saturday, we will pack all of our belongings into and on top of (thank you, Jason Stafford) our Mini Cooper and set off to begin what I hope will be a long professional running career. On our way to Rochester Hills, Michigan, we will be stopping in Atlanta for 4 nights for me to race and then finishing the drive up on the 4th of July.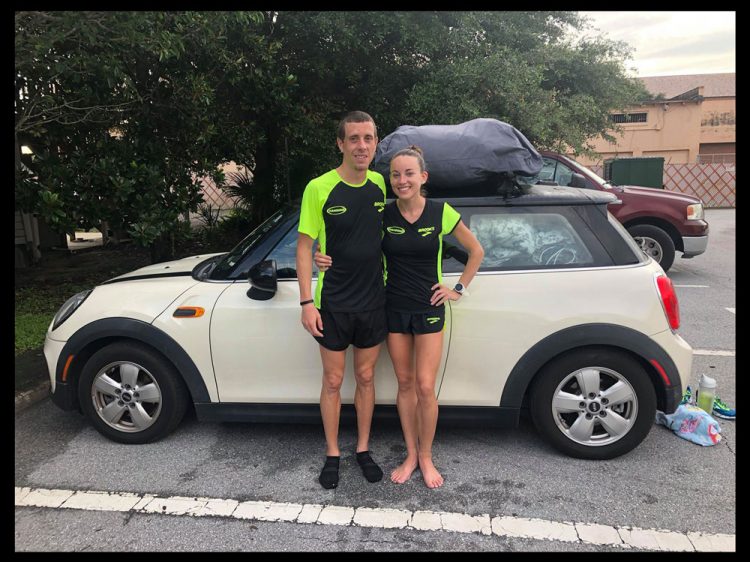 The Race
Peachtree is one of those iconic American road races that I have been told EVERYONE should do. 60,000 participants. 200,000+ spectators. Music blasting every mile. It's a PARTY and it sounds to me like the best way to celebrate Independence Day.
The course is point to point. The Elite women start at 6:50 a.m. Elite men and the rest of the field start at 7:00 a.m. However, the last wave starts at 8:40 a.m. which gives you an idea of just how massive this race really is.
The Perks
So, being invited as an elite athlete has its perks, but not all races are the same. The Atlanta Track Club (ATC) really loves their runners, and they are sure to make the race an unforgettable experience. Different levels of athletes get different levels of benefits. World Class athletes, like Sara Hall and Jordan Hasay, will receive large appearance fees just to show up at a race like this. (For example, Shalane Flanagan will get close to $250,000 just to run the NYC marathon this year.) However, most athletes just hope for hotel and travel costs to be covered.
For me and most of the other athletes, the ATC is providing 2 nights in the JW Marriott which is right at the starting line of the race. Travel reimbursement is also included up to a certain amount. Dinner will be provided the night before the race and light meals and snacks are provided in the Elite Hospitality Suite.
In addition to providing an opportunity to compete, the race pays out a pretty nice prize purse to the Top 10 American athletes.
The Competition
Here is a link to the complete list of the elite women and men set to compete next Wednesday.  A tape delayed broadcast will air that night at 8 pm on NBC Sports.
https://www.atlantatrackclub.org/news/olympic-gold-medalist-us-champion-join
I'm not going to even bother guessing where I stand in this list, but I would be ecstatic if I could put myself in the Top 10.
But…
Regardless of the outcome, the purpose of this race is to have fun at a Landmark American road race and to represent Hanson-Brooks in the best way that I can. It will serve as the perfect rust buster and great way to celebrate our great country. I look forward to getting back to you guys with the race recap.
Until then, remember to #runhappy!!!
Jon & Sydney discovered running as high school sophomores and transitioned to college athletes for Webber International University and the University of Florida respectively. Jon debuted in the marathon in 2011 while in college running a 2:40.
In 2015, Jon ran the Houston Marathon in 2:18:12, which earned him a spot at the 2016 Olympic Trials in Los Angeles. Jon has run eight marathons, winning the Detroit Marathon in 2017, and earning a return to the 2020 Olympic Trials in Atlanta with a 2:18:34 at the Ottawa Marathon in May 2018.
Injury forced Sydney to take a break from running after her freshman year at UF, and after finishing college and some time abroad, she returned to running in 2015. Sydney ran her debut marathon in Pittsburgh in May 2018, winning the women's race in 2:32:38, and earning a place at the 2020 Olympic Trials.
Jon and Sydney are members of the Lakeland Runners Club, and currently train in Rochester, MI with the Hansons Brooks team.
Sydney – Time to Suit Up!