Follow Jon Mott & Sydney Devore as they chase their Olympic Marathon dreams as part of the Hansons Brooks Original Distance Project Team.
It's hard to believe that we have only been here for two weeks. It's even harder to believe that in that two weeks, I have done TWO workouts on the track. That's two more than I have done in the last 8 years. That's right, I haven't done a track workout since the Spring of 2010. I don't know why I felt so intimidated by the track other than I just felt I didn't belong there. To me, the track was a place for speed, something marathon runners aren't exactly known for. I warmed up and braced myself for the hurt, but what I found instead, was completely different. It was fun? Yep! That's the word. We had a blast. I had to get used to quarter mile splits and quick calculations, but we flew through this workout with ease. Dot and I took turns leading while Chelsea chased us down from behind. We would finish each rep together and then high five while jogging the recovery. The energy was intoxicating. In the end, we all walked away feeling like winners and just a little bit closer in my opinion.
This whole experience was made possible because we have the benefit of training under world-class coaches. Kevin and Keith knew how to structure this workout and assign paces that were achievable but still challenging enough. Being able to just follow instructions and listen to coaches of such high caliber makes a huge difference in the mental aspect of training. Whether you have a coach, or you are following a training plan, you have to buy-in 100 percent to the program. In many ways, that is more important than the training itself. I often think about training like chocolate chip cookies. I have eaten a number of chocolate chip cookies that at the time I likely declared were "the best chocolate chip cookies" I had ever eaten. However, it is unlikely that the recipes for these cookies were exactly the same. There is no secret formula or perfect training plan. Hard work and consistency will lead to improvement. Make a plan to achieve a goal and stick to it.
The benefits of being on a team cannot be overstated
I couldn't be happier to report that we seem to fit right in here. It's like there have been spots for us waiting this whole time. Both Jon and I feel so fortunate to have found a team that values positive team dynamics. Although we all have our separate goals and even different races on our agendas, we know that a "rising tide lifts all boats".
One of the biggest concerns with joining a team is the group dynamics. Runners are competitive by nature and the last thing I wanted was to find myself in the middle of a power struggle. There is an unfortunate tendency for elite runners to want to "race" workouts. This mentality often breeds negativity and usually ends in overtraining or injury. It's a delicate balance between wanting to be the best on the team and wanting to be the best FOR the team.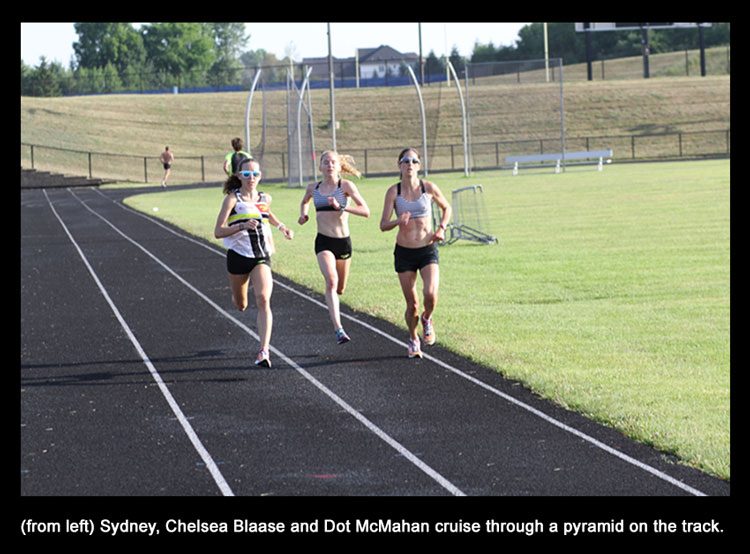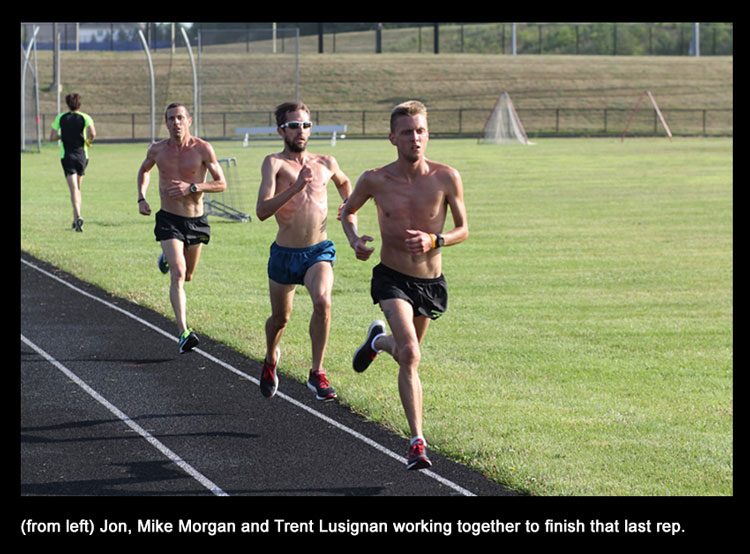 If you are interested in meeting the rest of the team, you can follow the link below to our bios.
Jon & Sydney discovered running as high school sophomores and transitioned to college athletes for Webber International University and the University of Florida respectively. Jon debuted in the marathon in 2011 while in college running a 2:40.
In 2015, Jon ran the Houston Marathon in 2:18:12, which earned him a spot at the 2016 Olympic Trials in Los Angeles. Jon has run eight marathons, winning the Detroit Marathon in 2017, and earning a return to the 2020 Olympic Trials in Atlanta with a 2:18:34 at the Ottawa Marathon in May 2018.
Injury forced Sydney to take a break from running after her freshman year at UF, and after finishing college and some time abroad, she returned to running in 2015. Sydney ran her debut marathon in Pittsburgh in May 2018, winning the women's race in 2:32:38, and earning a place at the 2020 Olympic Trials.
Jon and Sydney are members of the Lakeland Runners Club, and currently train in Rochester, MI with the Hansons Brooks team.