Follow Jon Mott & Sydney Devore as they chase their Olympic Marathon dreams as part of the Hansons Brooks Original Distance Project Team.
I really appreciated all your comments from my post a few weeks ago. I'm glad you all enjoyed hearing about our new home.  It's once again my turn here since Sydney and I are rotating each blog post. Things are going really well now. Not going to lie though, the adjusted period wasn't as easy as we thought it would be but I think we're both past that now. It started off well, but my guess is there was a delayed fatigue that hit. Workouts weren't the best but it was expected. I won't keep going on about that but we should be good to go now!
It's been roughly 5 weeks since we've joined Hanson's and we've done a quality session every 3 days for the most part. Whether it be speed intervals, tempo runs, or long runs. I'd say the hardest part on these quality days is holding back and hitting the pace that coach wants. Prior to Hanson's I just went by feel so if I was feeling good I'd go faster than the planned pace. Now I am forced to stick to the planned paces. Coach Kevin wants us to feel like we still have more in the tank once the workout is done. It makes sense because going all out every workout could potentially lead to over training in the long run (no pun intended lol). At this point in training we're really focusing on our turn over or speed. That usually means that we'll be running roughly 10-30 seconds per mile faster than marathon pace during our workouts. Once marathon training begins things will slow down a bit on pace but the volume will increase. Currently, things are feeling quite easy and that's what coach wants. When marathon training begins we'll be ready to go. Both Sydney and I can't wait for when it does!
So far I have only done one race since Ottawa. This is expected since it takes quite a bit of time to recover from a marathon. The race was the Crystal Lake Marathon Relay. It was mostly just for fun and a good way to get a workout in. There were no expectations. The race consists of 5-person teams (4 x 5 mile leg and 1 x 6.2 mile leg). Our team had 2 women and 3 men and we wanted to win it overall…even against the all men's teams. An elite group of runners called the Playmakers did show up so we knew it was going to be a tough one. Coach Kevin decided to put our two women first. After those first two legs we were down 5:30 from the Playmakers team. It was my turn to go and I was able to make up 1:30 even though I didn't run as well as I hoped. Next up was Trent and he was able to make up 2:15…so going into the last leg of 6.2 miles we were only 1:45 down from the leader. Ian ran our last leg and made up a 1:30. We ended up in 2nd place by only 45 seconds. We definitely consider this a success as we almost beat an elite group of men as a co-ed team. On top of it it was a nice team bonding situation. I would definitely recommend relay races if you want to change things up from your normal type of races. Having teammates to support and who support you was such a great experience.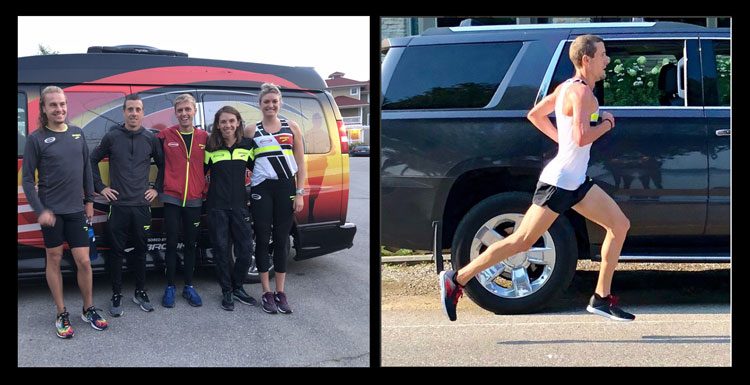 Sydney has raced 3 times so far since Pittsburgh but her race was 4 weeks prior to mine so she's had more time to fit in races. She's done Peachtree 10k, Bix 7 miler, and Beach 2 Beacon 10k. Beach 2 Beacon 10k was her last race before she takes down time and begins her marathon training cycle. Next for me I'll most likely be racing either the Crim 5 miler on August 25th in nearby Flint, MI and the USA 20k Championships September 3rd in New Haven, CT. The competition is deep at the 20k champs and there will be more guys of my caliber racing it. I'll have to keep everyone updated on how these races go.   
Jon & Sydney discovered running as high school sophomores and transitioned to college athletes for Webber International University and the University of Florida respectively. Jon debuted in the marathon in 2011 while in college running a 2:40.
In 2015, Jon ran the Houston Marathon in 2:18:12, which earned him a spot at the 2016 Olympic Trials in Los Angeles. Jon has run eight marathons, winning the Detroit Marathon in 2017, and earning a return to the 2020 Olympic Trials in Atlanta with a 2:18:34 at the Ottawa Marathon in May 2018.
Injury forced Sydney to take a break from running after her freshman year at UF, and after finishing college and some time abroad, she returned to running in 2015. Sydney ran her debut marathon in Pittsburgh in May 2018, winning the women's race in 2:32:38, and earning a place at the 2020 Olympic Trials.
Jon and Sydney are members of the Lakeland Runners Club, and currently train in Rochester, MI with the Hansons Brooks team.